Silly Season to shake up top team line ups, who's going where?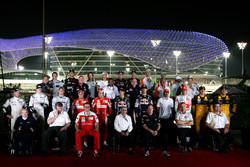 As FIA has decided to enforce new rules for next season the Silly Season will be more interesting than ever. The top five drivers will have to be spread between different teams to even out the field by ruling out lineups such as Red Bull's and Ferrari's. Even if the championship is yet to be decided the speculations is intense over who will end up where for next year.
Kristoffer Holm is an unpredictable driver during silly season as we have seen him in five different teams during the last seven years. The current season is his second in a row with Red Bull and the question is if he want to stay or will he search for new challenges elsewhere, one thing is for sure, every team will want to have him onboard as a proven multiple champion. Kris Locksey is coming to the end of his third season with Ferrari, the Brit seems to have settled down nicely in Italy after spending his previous years with two other legendary teams in Williams and McLaren. That Locksey will stay with the Scuderia is one of the safer bets during this winter.
If both Holm and Locksey stays Peter Bohlin will have to find a new team after spending just one year at Red Bull after having done the previous three years with Ferrari. With two driver titles in the bag other teams is likely to take him on with open arms, maybe a perfect match for top teams like McLaren and Mercedes who both want to improve from a dismal seasons. Jonas Andersson has had a good season but will still look to mix it up at the top on more regular basis for next season, the question is if that will be possible with Renault where he have a secure seat should he want to. Otherwise Joniño and McLaren has a strong bound as it was the Brazilians team for his first two years in the sport, for 2009 he also had a contract signed with the Woking based team before an injury put him out for the beginning of the season and hence losing the seat.
Last man falling under the top driver split rule is Adrian Holm, last year's title challenger who needs to leave Ferrari should current teammate Locksey decide to stay. Adrian would be a target for many teams after that the Norwegian have improved greatly in the past years, being a race winning threat in almost every race. Williams is a hot rumour but the likes of McLaren and Renault is also possible depending on Anderssons decision, Mercedes however seems unlikely as Holm left in a hurry when Brawn GP was bought by the Germans last winter.
Best of the rest will be Jörgen Ekroth who will get the delicious possibility to choose between any of the twelve teams. It's very difficult to predict what's on the Japanese mind, will he continue alongside Andersson wherever he will be, will he join up with Kristoffer Holm like last season or team up with any of the other three top drivers. There is even a possibility to take command of an own team.
Another driver who will attract interest from many teams is this year's rookie Reiko Lill who scored a podium in his first race and won his second. After that he has scored a few more podiums including another win but also has been out for eight races which might be a concern for the top teams. Markus Walter and Kalle Palmre is fighting it out for 8th in the championship after pretty good seasons where they have shown really good pace at times, both will get a chance to force their way into a top team which might help them develop their talents to be even more competitive. Except for the top driver separation rule FIA is also trying to implement more collaboration between teams in a way that six top teams will be helping one team each of the lower placed teams.
Published 2011-11-21 by Peter Bohlin | Edit