Korean GP: Post-race press conference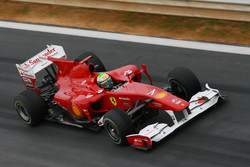 Please welcome the podium of the 2011 Korean Grand Prix. In third for Red Bull Racing, Peter Bohlin. Second also for Red Bull Racing, Kristoffer Holm. And winning the race, for Scuderia Ferrari, Kris Locksey.
Q. Kris, a tough end to last weekend so it's must be quite a good feeling to get a revenge only a week later?
Kris Locksey: As I said, last week was on of the worst days of my F1 career. To follow up on that with a win here is of course very satisfying. Need to thank the team for all their hard work since last week. It really is fantastic driving for Ferrari. Don't know about the revenge part though, but it is always a good feeling to have the Red Bull cars behind after the chequered flag haha.
Q. You managed to take the lead before half a lap was done and then it was straight to the chequered flag, tell us about your race, what was on your mind when up front?
KL: At first I just wanted to get a good gap. When Adrian stole second it felt very good, but he had a difficult race so I had to start focus on Kristoffer instead. When it was time to stop I would have liked at least one more lap on my first set of tyres, but I stayed ahead and pretty much just needed to make sure I could stay out on track until the end. It was no problems tyre wise at the end but Kristoffer put some heavy pressure so I needed to do the same to keep my 3 second gap. In all a great race from our side, good strategy and it felt pretty controlled.
Q. An important win for the championship aswell, now you are like last year just one point behind going into the last two events, what will your approach be, did you learn something from last year that you can get use of?
KL: I've been fighting for the championship several times and each time I've wondered what I could have done differently. Sure last year was incredibly tight but I could have done nothing else than what I did. I was champion with just 15 laps to go or so, so I feel I did what I could. But since I've arrived at Ferrari I really feel I've grown a lot as a driver and now I feel much more secure in my driving and feel much more flexible during a race. I always know that if I do what I should, chances are high I will win the race. I will bring that with me in the final events and if I win the last 2 GP:s I'm champion. The math is simple.
Q. Over to you Kristoffer, second at the finish line but at a day like this with your championship rival besides you your toughts must go to the little mistake going into Turn 4 on the first lap?
Kristoffer Holm: Absolutely! When I managed to keep the lead up to the turn 3, I think I went a little too relaxed, and miscalculated the braking. It was not much time I lost right then, but it did affect my race very much when I had to fight with Adrian who drove very well.
Q. You had some goods fights on track with both Adrian and Jonas, takes us through these battles.
KH: The fight with Adrian was annoying. I felt I really needed to get pass, but I did not manage that.. In the end, Adrian ran off but then my tires was in poor condition.
Q. You have a one point lead in the championship, how's your approach for this two curcial races that is left?
KH: Just focus. Concentrate and make sure you get everything out of the car. I'm running for two wins, nothing else!
Q. Peter, another podium for you, how was the race?
Peter Bohlin: Had a good start for once but was a bit cautious and lost out on the top four battling during the first lap. Then I didn't have the pace to really challenge those in front, the strategy brought us up here.
Q. Fifteen important points for the championship at least?
PB: Yes, thats for sure, as Adrian retired it meant we scored more points than Ferrari despite not winning which is good for the constructors championship.
Q. Finally, you are more or less the only one who have an outside chance on taking the championship from Kristoffer or Kris, what's your view on that?
PB: Well, I don't have it in my own hands anymore but my target is the same as this guys, I have to win both remaining races and hope that them at best split second places.
Published 2011-10-18 by Peter Bohlin | Edit