Japanese GP: Bohlin wins after Ferrari heartbreak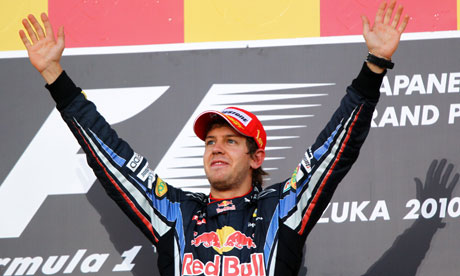 Peter Bohlin scored his third win of the year to mix himself into the championship battle once more. The win though was handed to the Red Bull driver who inherited the lead after Lockseys Ferrari engine called it quits just one lap from goal. A heartbroken Locksey held his head very low as he walked from his burning car back into the pits. Locksey who up until that point had gone from 6th to 1st and seemed to have everything under control until the final lap. Bohlin though had been driving exellently as he pitted already on lap 17 but managed his tyres and didn't have to come in again. The duo were close time wise but in the end it was a Red Bull success.
Behind Bohlin it was a battle for 3rd as both brothers Holm was seen following one another. The brothers had a somewhat difficult race though with many small incidents which cost them much time. Adrian was the faster of the day and finished in a very important 2nd to keep his dreams of the title alive. As Kristoffer Holm learned of Lockseys retirement he backed off and settled for a third place finish. Jonas Andersson finished 4th after some retirements but drove well to fend off Reiko Lill in the McLaren who finished 5th. Reiko who was in the lead at the start after a very good launch from the grid.
Ekroth finished 6th after a solitary run. It seems though as both Renaults only did one stop today they have found a more efficient way to make their tyres last which could prove useful in the final races. Locksey managed 7th even after his anticlimactic end, he finished ahead of Teeorg, Holkedahl and Kasevali who all retired and would not score any points. Holkedahl looked lethal today as he had some serious speed in his car. But he retired after two small mistakes on lap 34. It is still unclear why, but he could have stalled the engine.
Now we look forward to the very first GP in Korea, at the Yeongam circuit. See you all there.
Published 2011-10-11 by Kris Locksey | Edit